Cloud masterclass: mastering multi-cloud management
Presenters: David Simpkins, Simon Walker, and Dushan Ratnam
In this masterclass, we explore how best to manage your multi-cloud environment and achieve business success.

According to the Cloud Industry Forum:
Over 1/3 of organisations are using at least 3 different cloud providers
Over half the organisations believe that their security and regulatory solution for their cloud-based services isn't as good as it could be
The worrying conclusion is that it's getting harder to manage your cloud experience across hybrid (public and private) cloud, and your compliance manager is going to get more demanding!
This doesn't just need the right tools, process, or systems, it needs the right people and skills, especially as you grow and scale your cloud.
Are you getting the best guidance from your service providers to help you succeed?
Please enter your details to watch the video
Watch the replay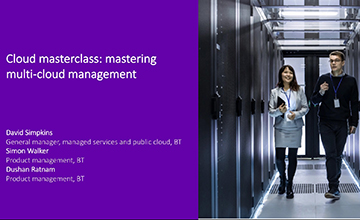 Speakers:
David Simpkins- General manager, managed services and public cloud, BT 
Simon Walker- Product management, BT
Dushan Ratnam- Product management, BT