Cloud migration: two paths to avoid
Presenters: David Simpkins, General manager, managed services and public cloud, will be joined by Elena Christodoulou, Director, global strategic alliances, and Dushan Ratnam, Senior product manager
We regularly see two main paths being taken when organisations decide to roll out a cloud project – and either can lead to all kinds of problems.

Often, we hear "everything must be cloud first", but at the other end of the scale, there are organisations letting business units do their own thing. Each approach can negatively affect the success and benefits cloud has to offer.
We can help you navigate the potential storms quicker and more easily. Hear from our cloud experts about some of the best practice in successful multi-cloud projects. Learn how to become more agile and innovative, whilst reducing your costs. It's never too late to get your cloud journey on the right track.
Please enter your details to watch the video
Watch the replay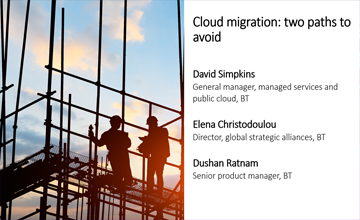 Speakers: 
Elena Christodoulou, Director, global strategic alliances, BT 
Dushan Ratnam, Senior product manager, BT