Cloud – the top issues right now
Latest CIF research on cloud 2020 hot topics
Cloud adoption is maturing, digital transformation strategies abound, but can you overcome the obstacles to a successful deployment?

Fresh research by the Cloud Industry Forum (CIF) and BT has revealed the common factors that could hamper your success.
Almost all organisations have cloud-enabled digital transformation plans but IT teams say execution is difficult due to lack of in-house skills, budget and partner support.
David Simpkins sits down with Alex Hilton, CEO, CIF to review the research and pick out the key trends, issues and solutions that will help you.
Watch our webinar to get a fresh perspective and see how your cloud journey compares.
This webinar was recorded ahead of the Coronavirus becoming a pandemic.
If your organisation is being affected or you have any questions about cloud or business continuity, please reach out to us. Whether it's practical help or reassurance, we're here for you.
Please enter your details to watch the video
Watch the replay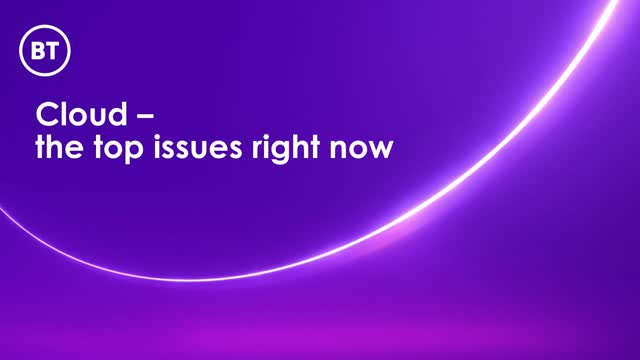 Presenters:
David Simpkins, General Manager, Managed Services and Public Cloud, BT
Alex Hilton, Chief Executive Officer, Cloud Industry Forum