Find out how to deliver 80 per cent user adoption within 4 months
Presenters: Andrew Small and Binita Jilka from BT will be joined by Kieran Kelly, Lead Collaboration Practitioner, Sei Mani
Organisations spend money on tools that help make jobs easier, but employees aren't always falling over themselves to use them.
Introducing a new technology without getting your people on side won't succeed. 
So how do you drive high levels of user adoption? Find out the secrets in transforming employee collaboration behaviours and achieving faster business results. This could be the reason of success or failure of your collaboration technology and digital workplace strategy.
Please enter your details to watch the video
Watch the replay video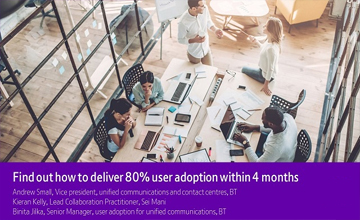 Speakers: 

•  Andrew Small, Vice president, unified communications and contact centres, BT
•  Kieran Kelly, Lead Collaboration Practitioner, Sei Mani
•  Binita Jilka, Senior Manager, user adoption for unified communications, BT