Dispelling 7 myths of cloud collaboration and the digital workplace
Presenters: Andrew Small, Vice president, unified communications & contact centres, BT, was joined by Dominic Elliott, CTO from Cisco, and Stewart Wright, General manager UK & Ireland, IR
You want to transform team collaboration, but you're just a little bit anxious on the how. 
All those concerns you have about things going wrong, complexity, disruption, cost and value, all mean that whilst you know it's important, it's still a daunting prospect.  By dispelling those myths and giving you our opinion based on communication transformations with hundreds of organisations just like you, you'll be in a better place to make an informed decision.  And making the right choice means having a more connected workspace and reaping the benefits that collaboration and digital services can offer.
Watch a brief summary of the webinar below by Andrew, Small vice president, unified communications & contact centres and sign up to see the full replay.
Please enter your details to watch the video
Watch the replay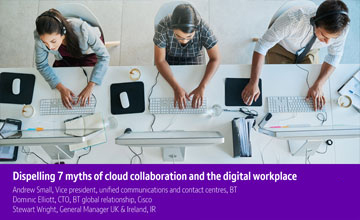 Speakers: 
Andrew Small, Vice president, unified communications and contact centres, BT
Dominic Elliott, CTO, BT global relationship, Cisco
Stewart Wright, General Manager UK & Ireland, IR