How do you prepare your network for a new future?
Networks will need to change to support a new future. It's important to have practical advice to make sure you are investing in the right changes.
Many organisations have now implemented temporary fixes to support the new network demands driven by Coronavirus, but this could be just a short-term solution to a short-term problem.

Although we face an uncertain future, we can predict some of the upcoming challenges your network may face and recommend what changes you could make today to be ready for the future.
Watch our webinar where experts Gary Barton from Global Data, together with Scott Cowling, Wouter Belmans, and Jonathan Sumner from BT discuss:
Please enter your details to watch the video
Watch the replay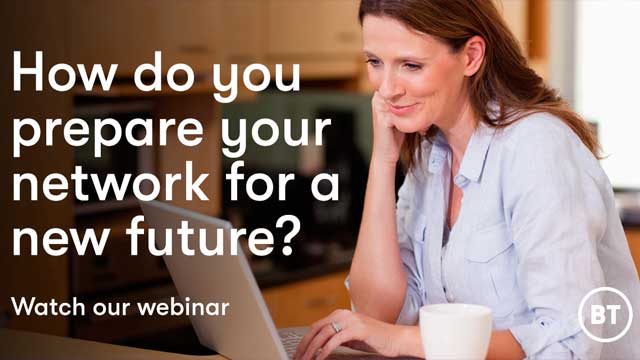 Presenters:
Gary Barton, Principal analyst, Global Data 
Scott Cowling, Director network solutions, BT
Wouter Belmans, Director BT Consulting, BT
Jonathan Sumner, Portfolio marketing - network and cloud, BT