How to exploit a software defined world
Presenters: Keith Langridge, Jude Andrew, Dominic Elliott, and Joseph O'Sullivan
As we move to a software defined world, in the LAN, WAN and data centre fabric, technology is helping to deliver a step change in customer experience.

This could be the move to a self-healing network or transforming the services you offer in the branch through enhanced wi-fi and advanced applications.
In this webinar, we looked at real world examples of how to deliver moments that matter to your end customer in the branch, to your network team and in your data centre. We also explored the key role of technologies such as SD-WAN, Meraki and Cisco ACI. But technology alone isn't enough. We considered the other components which need to come together to create the perfect solution.
Watch our webinar featuring experts from BT and Cisco to find out more.
Please enter your details to watch the video
Watch the replay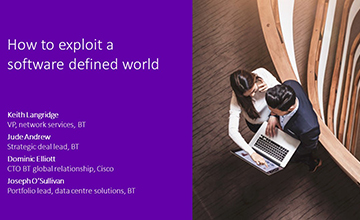 Presenters:
Keith Langridge, VP, network services, BT
Jude Andrew, Strategic deal lead, BT
Dominic Elliott, CTO BT global relationship, Cisco
Joseph O'Sullivan, Portfolio lead, data centre solutions, BT