IoT: 3 obstacles to a successful implementation
Watch our webinar with leaders from Dell, QiO and BT to find out about these obstacles and learn how to overcome them.
Many organisations are looking to implement the Internet of Things (IoT), with industry 4.0 being the main driving force.

In order to do this successfully, there are three significant obstacles to overcome – implementing the right Edge, securing your project, and delivering an end to end service experience. At BT, we are already working with large global enterprises and our partners to meet those challenges head-on.
Please enter your details to watch the video
Watch the replay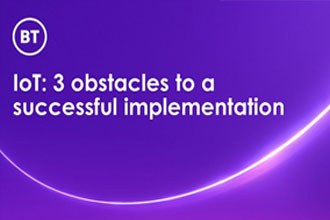 Presenters:
Baz Khuti, Co-founder and CEO, QIO
Brian Lappin, Head of vCPE and NFV, BT
Marc Flanagan, EMEA Director, Edge & IoT Solutions, Dell