Make security integral to your business
Steve Benton, BT Deputy CSO, GM Cyber and Physical Security Operations and Programmes, BT
It's a scary world out there and whilst technology brings opportunities, that also means that there are new security challenges facing us. 
The dangers are everywhere: stolen identities, systems held to ransom, phishing scams – the list is almost endless.  It therefore definitely pays to be aware and know what you're facing, that way you can be prepared and on the front foot.
Every second of every day BT, and its customers, are faced with an increasingly aggressive cyber threat environment. We've invested heavily to protect our assets - and those of our customers. Our strengths as a global leader in Security and our technology and intelligence can help spot and tackle your cyber threats before they become the stuff of headlines
Watch our webinar where our security experts explain how we protect BT enabling us to be best placed to protect you.
Afterwards you should be more confident about the subject and know who is best placed to support the protection of  your organisation.
Please enter your details to watch the video
Watch the replay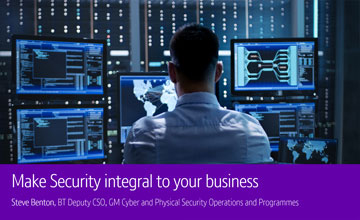 Speakers: 
Steve Benton, BT Deputy CSO, GM Cyber and Physical Security Operations and Programmes