People, productivity and the digital workplace
Presenters: Jonathan Brasnett, Head of global mobility and cloud UC, BT, and Marcus Hickman, Director, Davies Hickman Partners
How mobile and collaboration tools can boost productivity at work.
Productivity matters. It matters to governments, to industry, to families – every single one of us. Our latest research shows how important collaboration tools, connected systems and cloud services are to improving workplace productivity and reveals which collaboration tools and IT processes you should prioritise.
Watch the replay to hear from Marcus Hickman, Director, Davies Hickman Partners and Jonathan Brasnett, Head of global mobility and cloud UC, as they explore the five building blocks to boost your employees' productivity and discuss how through putting people (rather than technology) first and making the most of the tools and services you already have, you'll get the most from your teams.
Please enter your details to watch the video
Watch the replay video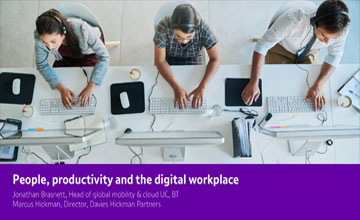 Speakers: 
Jonathan Brasnett, Head of global mobility and cloud UC
Marcus Hickman, Director, Davies Hickman Partners