SD-WAN and NFV: beyond the hype
Presenters: Keith Langridge, VP Network Services, BT and Adrian Comley, General Manager Dynamic Network Services, BT
SD-WAN and Network Function Virtualisation (NFV) are two technologies that are on every business's radar right now.
SD-WAN can help to take away a lot of the complexity you'd find in a traditional network from a routing and configuration perspective. NFV can promise to cut the IT clutter from your business. Both of these technologies offer great advantages, but if you're considering them, the question is, are you doing it because you want to jump on an industry trend, or have you truly considered the business benefits for your organisation?
Watch Keith Langridge, VP Network Services, BT and Adrian Comley, General Manager Dynamic Network Services, BT, as they take a look at:
The business challenges that are leading many to invest in these solutions.
The learnings from our global deployments to date.
Please enter your details to watch the video
Watch the replay video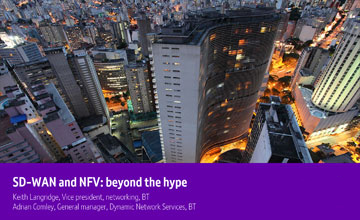 Speakers: 
Keith Langridge, VP Network Services, BT
Adrian Comley, General Manager Dynamic Network Services, BT