Global security roundtable: perspectives, threats and risks per region
Presenters: Juni Yan, Gary Symes, Hila Meller, and Steve Benton
Hear from our top security experts as they share their point of view and their vision for security across the globe.

Our vice presidents from Asia, Middle East, Australia and Africa, America, Europe and the UK shared their frontline experience of dealing with some of the security challenges in their regions.
Cybersecurity is a truly global concern with attacks and threats emanating from all over the world. The way each region tackles the cyber threat is subtly different. Our experts will take you through some effective security strategies and programmes that you can put in place to protect your "crown jewels" against the evolving global threats.
Whether you're a multinational organisation with worldwide operations, or based in one particular region, our webinar will give you a local and global view on how to find your way around the security minefield.
Please enter your details to watch the video
Watch the replay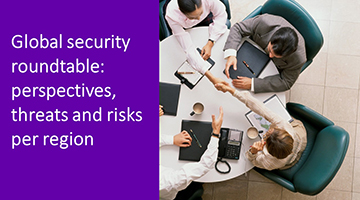 Speakers:
Steve Benton, BT Deputy CSO, GM Cyber and Physical Security Operations and Programmes, BT
Hila Meller, Vice President, Security, Europe
Juni Yan, Vice President, Security, Asia Middle East, Australia and Africa
Gary Symes, Vice President, Security, Americas