Expert Panel: Taking risk out of customer experience transformation
Presenters: Karine Palacios, Head of global product management, Cloud Contact next gen; Richard Atherton, Head of product management, Cloud Contact; David Ilett, Head of customer contact consulting
You're tasked with achieving two key goals that are often at odds with each other.

You recognise the importance of transforming your customer experience and having the best contact centre systems in place. But at the same time, you're under pressure to keep costs under control. Accomplishing just one can occupy all your attention - how do you manage both?
The right technology is important, but the way in which you deploy it will make or break your success. You need to know the pitfalls to avoid, and you need to know the return on investment (ROI), how long it will take to recoup, and what the real total cost of ownership is.
Hear our experts as they discuss how you can de-risk your customer experience transformation by:
Managing the migration and transformation without impacting your customer and agent experience
Please enter your details to watch the video
Watch the replay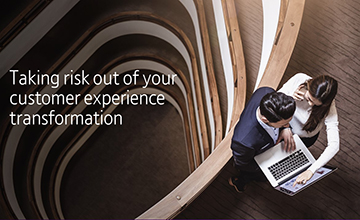 Presenters:
Presenters: Karine Palacios, Head of global product management, Cloud Contact next gen
Richard Atherton, Head of product management, Cloud Contact
David Ilett, Head of customer contact consulting