Top tips for deploying an Azure Network
Presenters: Ann Wood, Angie Jackson, & Simon Walker from BT, and Lucas Searle from Microsoft
The cloud offers the promise of agility, scalability and cost benefits. You can spin up space in minutes, something which used to take weeks. But networking is complex. Just because it's in the cloud doesn't make it easier. 

In the same way you'd look for support to manage your network services, it has become just as important to find ways of managing the complexity of cloud network services.
In our webinar, we cover some of the exciting new developments in Azure networking and show you how straightforward it is to hand over the management of your cloud network services.

We give tips on:

Please enter your details to watch the video
Watch the replay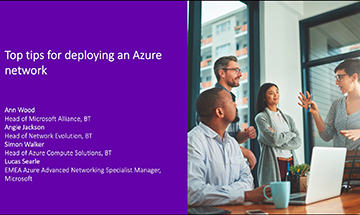 Presenters:

Ann Wood, Head of Microsoft Alliance, BT
Angie Jackson, Head of Network Evolution, BT
Simon Walker, Head of Azure Compute Solutions, BT
Lucas Searle, EMEA Azure Advanced Networking Specialist Manager, Microsoft