The way we work has changed
Across the globe, organisations continue to reset their workplace strategies. The workforce has largely shifted from in-person to hybrid and remote models – and successful companies are capitalising on this change. 
of high-growth companies use hybrid work models
of employees prefer a hybrid model
Introducing Operator Connect for Microsoft Teams with BT
Your people need a flexible, hybrid workplace fit for the future – where they can use one familiar application that combines collaboration tools and provides access to global voice services too. Operator Connect is a simple, new way to enable your colleagues to make calls to landlines and mobiles straight from Microsoft Teams. It means your people can stay connected wherever they are, giving you a comprehensive and cost-effective way to manage all your calls and communications easily – in one place.
One unified collaboration tool, four core benefits
Adding the power of our global voice network to the Microsoft Teams environment has four key advantages: 
Dial up your collaboration experience with Operator Connect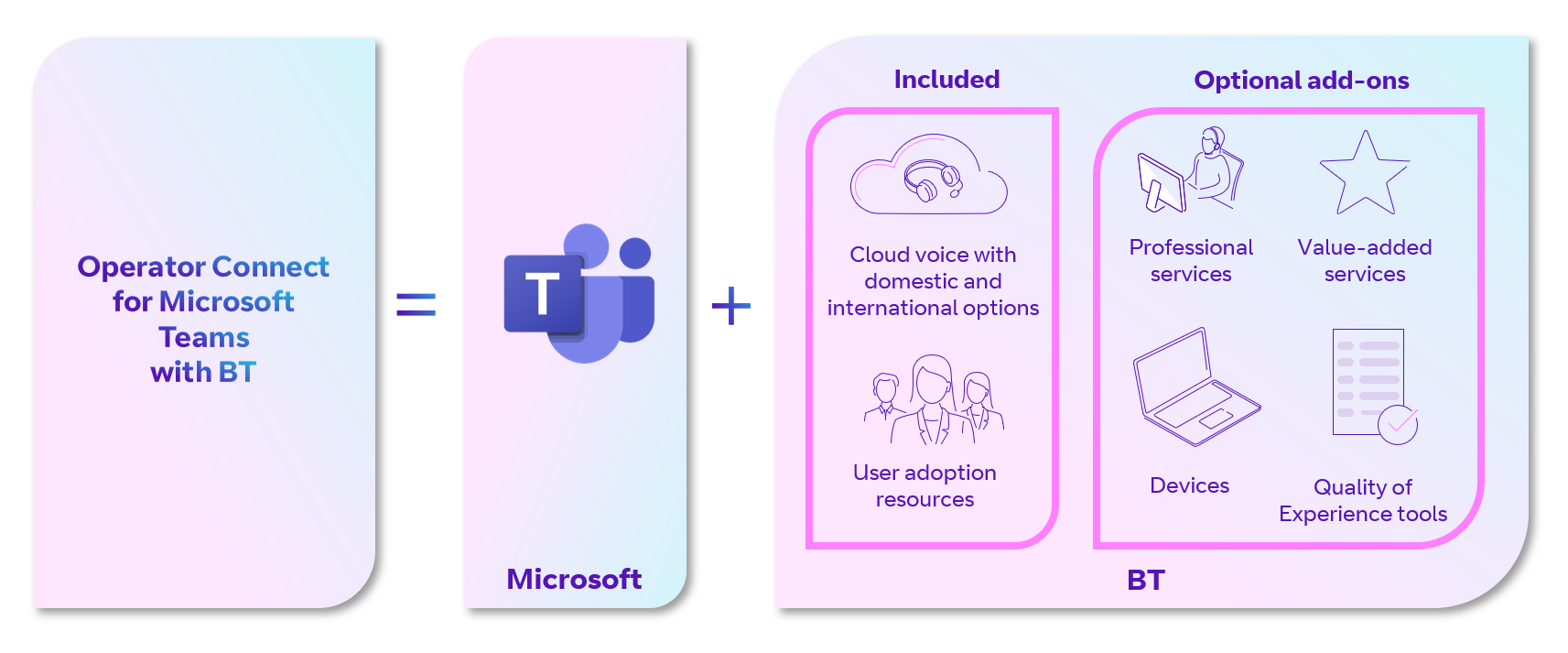 Why work with us? 
Global reach: with a worldwide network, we can provide high quality calling in 21 countries.
Expertise: when it comes to voice, we've seen and done it all managing our own global voice network as well as supporting our customers around the world. In fact, we manage over 550,000 Microsoft users from data centres around the world.
Pricing flexibility: we offer a range of packages to suit different needs, starting from only £3.55 per user per month.
Additional Teams services: need something extra? Whether it's connecting hard-to-reach countries or integrating applications and legacy infrastructure, we can support you at every stage of the journey.
Access to a suite of services: working with us you'll benefit from leading innovation, security, device management and collaboration products and services at your fingertips.