This, inevitably, puts pressure on the contact centre. Average call handle times tend to go up in the face of complexity and the pressures on contact centre agent skills increase. Since many customers start their journey on digital channels, they can have more up-to-date information, know what's on the website, or know more about products and services than the agents serving them. Add to that the pressures of having a conversation with a customer whilst navigating a myriad of systems, you can see that the life of the phone agent is not getting any easier anytime soon.

Another factor which may drive usage of the phone channel upwards in the future is the rise of the voice assistant. 31 per cent of customers thought that a voice based chatbot would be an effective way of having a conversation with an organisation. Voice assistants such as Alexa, Siri, or Cortana could fuel an increasing number of voice contacts when they fail. If your customers hit a "I'm sorry I don't understand" dead end, they are likely to stay on the voice channel and instruct the assistant to "ring the contact centre". This means that the voice assistant may need to act as a 'digital IVR' in order to triage and route people to the appropriate agent without the customer needing to repeat themselves.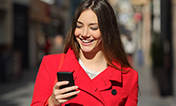 For years, analysts and commentators have been forecasting the death of the phone. Its sudden growth spirt may be due to the fact it frequently works better than its digital alternatives and, critically, it is often easier to use. Other channels may be newer and sexier, but the phone channel is still the most powerful collaboration tool that contact centres have in their bag.. But the past lessons from IVR implementations also need to be learned. Enthusiasm for voice technologies can easily hit the trough of disillusionment if they are poorly implemented.
Discover the insight you need to get your strategy right by downloading our latest whitepaper, 'The Autonomous Customer 2020' and register for our webinar.