Using the mobile app to control your call
Before proceeding, you need to download and set up the mobile app.
Conference controls - Dolby Voice only
Meeting roster
After joining as a chairperson, you will see the meeting roster, as list of participants in the call.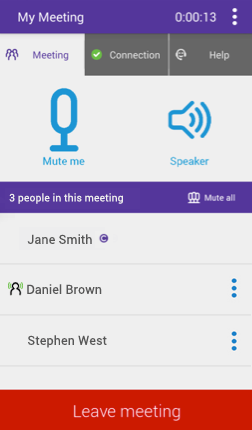 Control your sound
If you joined with the app, you can mute/unmute yourself or switch to speaker phone. If you have a bluetooth device, you can assign it by tapping the speaker.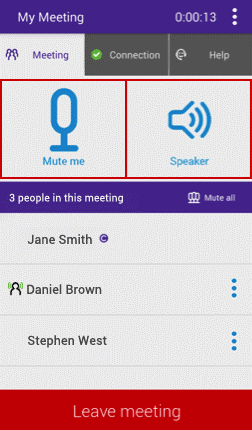 Mute participants
Tapping Mute all at the top of the participant list will mute all participants at once. Tap again to unmute everyone.
You can mute/unmute an individual participant by tapping the 3 blue dots in that row and selecting Mutefrom the menu. This is useful if someone is in a noisy environment such as an airport.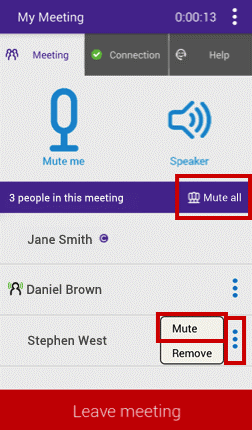 Remove a participant
If you need eject a participant from the conference, tap the 3 blue dots in that row and select Remove from the menu.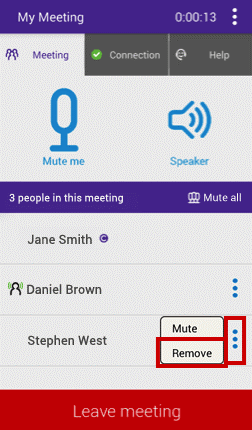 Check your connection quality
Tap on the Connect tab to view the status of your network connection when you are joining via wireless or mobile data.
You may also choose different rejoin options here if you have been disconnected or have a weak connection.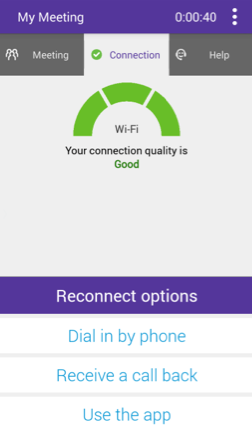 Help
Tap on the Help tab, then Talk to an operator to get assistance directly within the app.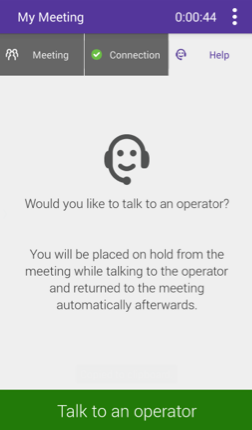 Conference controls
Tap on the 3 dots in the upper right to expand the in-conference menu.
Record will start recording your audio.
Play roll call play the recorded names of people who have joined via audio.
Lock meeting prevents anyone else from joining your meeting.
These features may not be available depending on your account settings.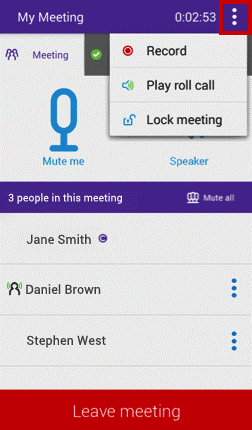 App features - available for all BT MeetMe services
App menu
Tap on the menu icon in the upper left of the screen to expand all the options.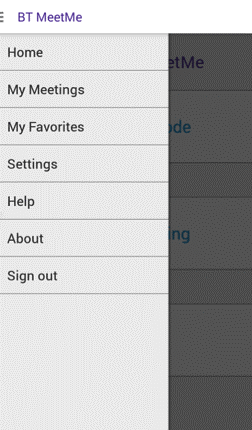 My Meetings
My Meetings provides basic integration with your mobile devices' calendar application. Use this to send participants invites or emails that include your participant dial-in information.
Please note that only your default dial-in information as determined by your account setup will be displayed. If you need to customize dial-in numbers in an invite, you'll need to use the BT MeetMe add-in for Outlook.
You need to have signed in and have a valid BT MeetMe account to use this.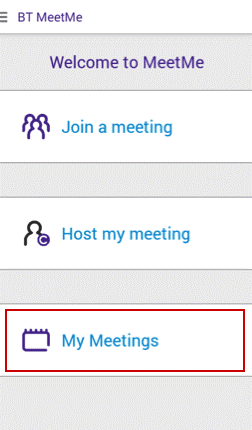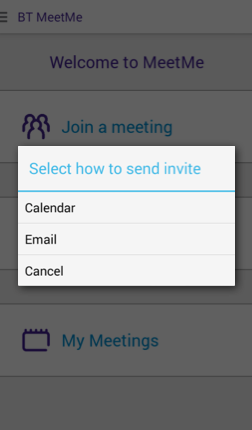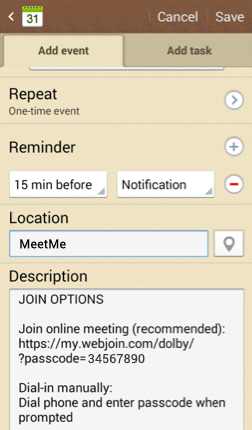 Favourites
If you frequently meet with the same individuals, you can save their passcodes to your favourites. There are 2 ways to save a favourite.
After you've joined a meeting, the app will give you the option to save this meeting as a favourite. Update the chairperson's name and tap Save
The next time you join a meeting, the entry be on the Join a meeting page under the Join button (not shown).
You can enter a favourite through the App menu.
The next time you join a meeting, the entry be on the Join a meeting page under the Join button (not shown).
Settings
Use mobile data is where you can give the app permission to use mobile data or not.
Reset app removes all your personal and account information from the app.
Personal details is where you can update your name, country, and mobile phone number.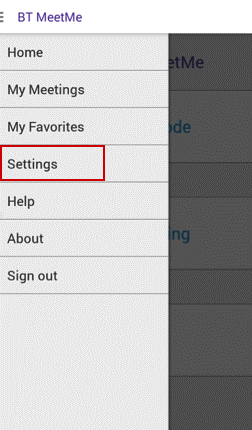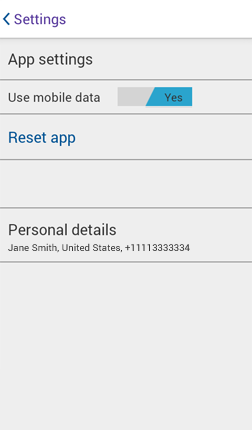 Sign out
Sign out removes your chairperson passcode and closes the app.
When you reenter your chairperson passcode and sign in again, the app refreshes your account info. This is useful if your BT MeetMe passcodes have been reset or you are concerned about the security of your phone.