Here are our top tips to help you get the most out of Webex App.
1. Set your avatar
Make your profile more personal by setting your status and preferences and adding your favourite picture.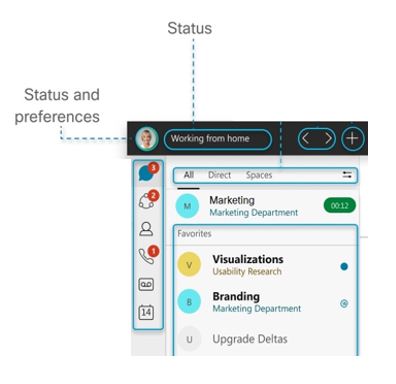 1. Instant meetings
You can start an instant meeting using your Personal Room. Your Personal Room is your own virtual conference space, it's always available and has its own Personal Room link and video address that never changes.
 2. Scheduling a meeting
Depending on your meeting audience, you can enable a waiting room and the host can then admit participants or you could allow authenticated users to join the meeting, they would need to be signed into their Webex App account.
To see upcoming meetings scheduled from a Space check your Calendar (in the Webex App).  Requires hybrid calendar to be enabled by your company.
3. Join a meeting from anywhere
Webex App works on your computer or smartphone. If you are on the move, you can install and join a Webex App meeting from your smartphone (Android and iOS).
4. Multiple audio connection types
You can join a meeting via VoIP (this is recommended as it is cost effective and should deliver the best meeting experience). If your Internet connection is intermittent you can choose to dial into the meeting or request a call back.
5. Background applications
Applications running on your computer can consume precious resources even if they are not in use. For the best experience, close any applications or browser sessions that would not be required for the meeting.
6. Make a wired connection to your computer
A cabled connection to your workstation should give you the best and most stable connection to the Internet. Where possible try and make a cabled connection from your router to your computer. Wi-Fi signals can be interrupted by other radio waves within your premises like an FM radio. You may see slower speeds on Wi-Fi than on a wired Ethernet connection to your workstation.
7. Run a speed test
If you experience buffering during a meeting, run a speed test to ensure you are receiving the best possible speeds. Your meeting experience is dependent on your connection to the Internet.
8. Share content before a call
Sharing content can take up more bandwidth, if you are experiencing a poor connection to the Internet, share files prior to the meeting. This helps reduce your bandwidth consumption and would deliver a better audio and video experience.
9. Reduce movement and distractions
Consider muting your audio line when you're not talking. Blur your background if you are on a video call to avoid having distractions behind you.  Establish good meeting etiquette to enable a great collaborative experience.  
1.         Chat
Use Chat as your direct messaging Space to collaborate with 1 person privately.
2.       Content
Click Content to view all the files that have been shared in any Space you are a member of.
Share a file with a Space by going to the 'Messaging' area and clicking on the paperclip.
3.       Apps
Click +Apps to add webpage shortcuts to a Space so that your Space members can access these easily, without having to leave the app.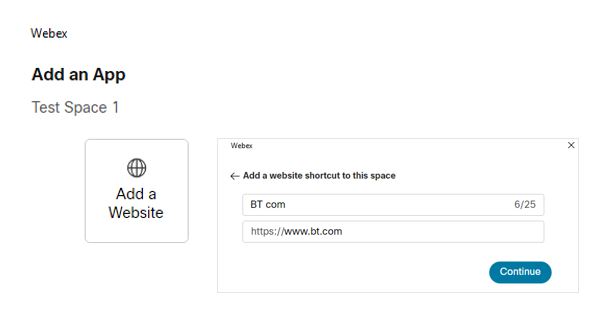 4.       Search
Search within the App for overall search capability when you want to find a file or a message within all your Spaces combined.

Search within an individual Space to find content, messages, a file, or URLs.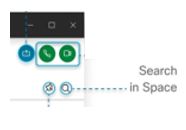 Use additional filters within a Space to filter through that Space's information.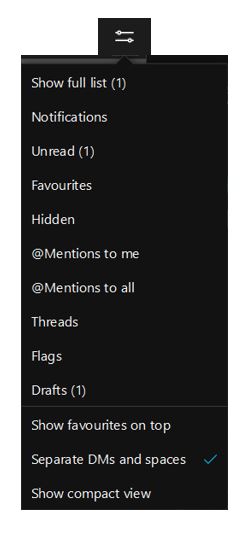 5.       Contacts
Use Contacts to add those Space members who you call the most. 
1. Use a good headset

The best audio experience is achieved with a good internet connection and a USB headset. Ear buds such as Apple headphones can be used but tend to pick up a lot of background noise, so are not recommended.
Pro tip: when using a headset, place the microphone in front of your chin, not in front of your mouth, to avoid heavy breathing sounds.
2. Check your headset is connected to or within range of your computer
If you use a wired headset, ensure your headset is connected to your computer and test it before your call. You don't want to start a call if it's not connected, as you don't want to get flustered before your call begins.
If you use a Wi-Fi headset, ensure it is fully charged if you are going to be on a long call, keep your charger close by, and stay within range of your computer to avoid being disconnected from the call, or having your audio distorted.
3. Check your sound settings
Computer audio
When connecting to a meeting using the Computer audio ensure that your headset is connected to your computer prior to joining the meeting and check that the device is detected.
Go to the Sound settings on your computer or, right click on the speaker on your task bar to open your Sound settings and choose and test your Input and Output device.
4. Join from a quiet place
A very noisy background can mean people may struggle to hear you clearly, so try to join from a quiet location. This is especially important if you are the host of a meeting or calling a client.
5. Have one audio source
if you are planning to join a meeting from the same meeting room as another participant, it's best for everyone to join the meeting individually from their computers for video and screen sharing. However, only one audio connection should be made to avoid feedback and echoes.
Pro tip: designate one person to join the Webex App meeting with audio either by dialling in by phone or by connecting via PC. Other participants in the same room should join the Webex App meeting and turn on their cameras but not connect to audio.
6. Mute yourself when you're not speaking
Remember to put yourself on mute when you're not speaking. Noise can be very distracting.
Help desk phone numbers
If you need further help, please contact one of our global helpdesk advisers.