Inviting Participants to your Personal Room
Participants can be invited to meetings by:
using Meet Now (if configured to use Personal Rooms) or Schedule Meeting (from Outlook calendar or Productivity Tools icons), or
sharing link with users - e.g. in IM or as part of email signature.
Meet Now
If your Meet Now is configured to use Personal Rooms (default setting), you can click the 'Meet Now' icon on the Outlook ribbon (requires Productivity Tools). This opens your Personal Room meeting and you can invite attendees directly from there using 'Invite and Remind' (see steps 4 - 6 in next section for details).
Inviting attendees from within your Personal Room

A simple way to join a Personal Room meeting is for the host to send an invitation email to the attendees, following these steps:
host logs in (or can be already logged in) to their Webex site
selects 'My Personal Room' or types in your Personal link on the browser
selects 'Start Meeting'
selects 'Invite and Remind'
types attendee email address in the 'Invitees' box. Email addresses must be separated by semicolon [;] or comma [,]
clicks 'Send'.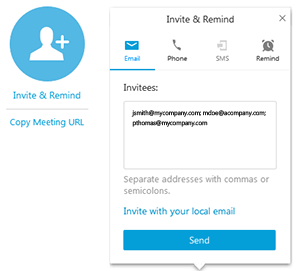 Scheduling a Personal Room Meeting through Outlook
To schedule your Personal Room meetings in Outlook for Windows:
open Microsoft Outlook
from the 'Home' tab, click on the 'Schedule Meeting' drop-down arrow, then select 'Schedule Personal Room Meeting'. The Personal Room - Meeting scheduling window appears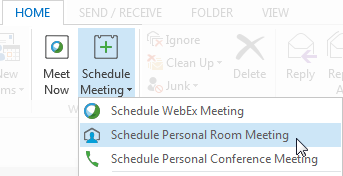 add your meeting attendees in the 'To' field
set the date and time for your meeting in the 'Start Time' and 'End Time' fields
click 'Send'. The 'Communicating with server' message appears.
Your meeting is now scheduled and invitations are sent.

Using a Personal Link

Finding your Personal Link

For example 'https://sitename.Webex.com/join/pgupta'
Log in to your Webex web site - example: https://sitename.Webex.com

Click on 'My Webex' on the top pane
Click on 'My Personal Room' on the left pane
Click on 'More Ways to Join' centre of screen.
The Personal Room meeting details are shown in the 'More ways to join' pop-up box.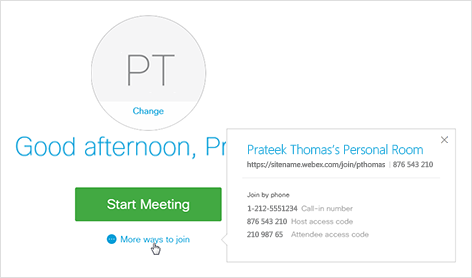 Sharing your personal link
This link can be pasted into Instant Messages and / or put into your email signature.