What is ThousandEyes with BT?
A digital experience solution to keep your business booming
Visibility into the internet, cloud networks and SaaS services are crucial for business in this era of hybrid network and cloud environments. Now more than ever, the internet dictates the experience of customers and employees alike. With these complex network supply chains, legacy monitoring tools have become ineffectual in ensuring the right digital experience reaches end-users. Cisco ThousandEyes gives you visibility to see and understand the experience of your users and customers with modern synthetic monitoring paired with end-to-end network path and routing visibility. 
ThousandEyes delivers this end-to-end view by monitoring the full-service delivery chain of your applications, using monitoring vantage points located in hundreds of cities across the globe. These combine with vantage points situated within your data centres and branch locations to provide comprehensive visibility across the internet transport layer as well as the overlay and application layers.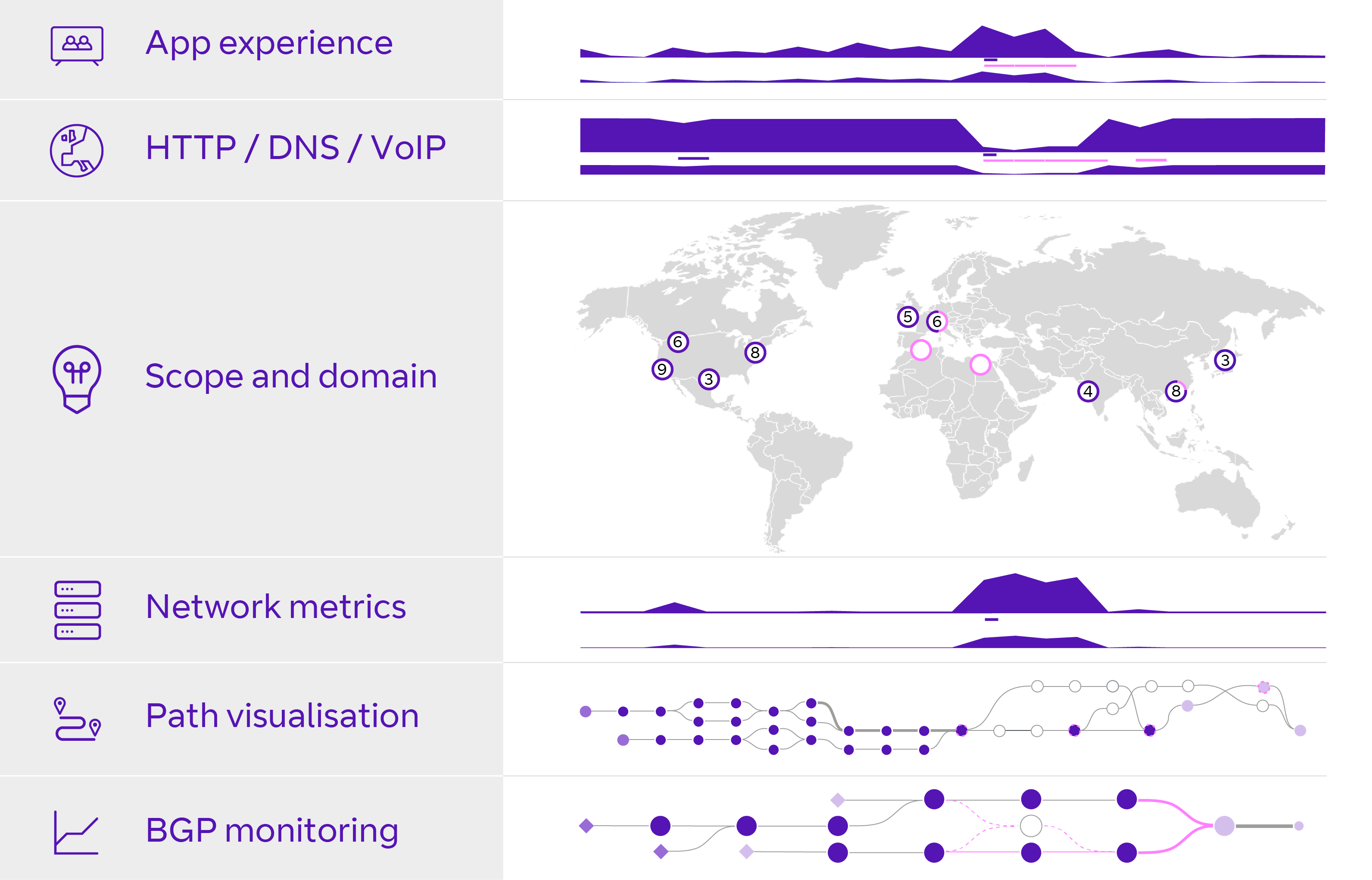 Why invest in ThousandEyes with BT?
With our service team looking after you 24x7 using proactive cross-domain monitoring, we'll proactively identify digital experience issues on your network and applications wherever they are. With an initial diagnosis to identify any issues, in no time, we'll have you giving your users and customers the best experience possible.
We'll help you:
unlock full value from the ThousandEyes technology without needing to load your own people with additional tasks
get the visibility insights you need to help you reform workflows and your network environment
simplify your infrastructure by mapping step by step application journeys
proactively identify issues and reduce mean time to repair
maximise cloud and ISP application performance by seeing end to end
increase network knowledge and understanding when selecting partners
maintain corporate and stakeholder confidence and show network and application insights.
ThousandEyes with BT features
Native integration across many of Cisco's core networking, cloud, security, and application suites.
Monitoring can be deployed across your environment instantly and, in most cases, without any extra hardware or equipment.
Richer set of native networking and application capabilities than any other Digital Experience Management (DEM) solution.
Integrated with the market-leading APM solution, AppDynamics to give you a game-changing common dashboard.