04. Meeting entry options
There are various ways for you and your participants to access your BT Managed Event Premium meeting. For each call that you book, you may choose the option that best fits your needs - whether you require fast and easy entry, data collection or a personal greeting for each participant.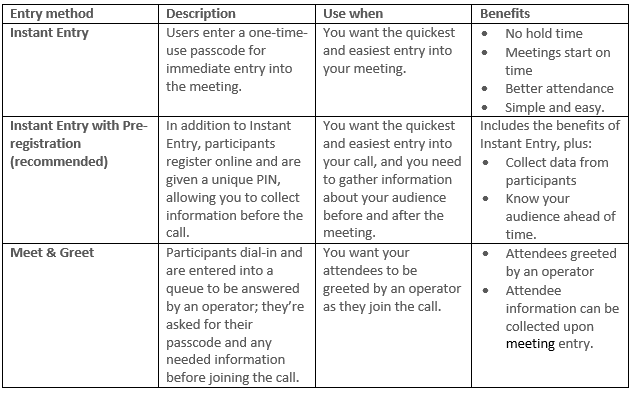 Pre-registration - organise and manage your BT Managed Event Premium meeting
Pre-registration is an optional feature that automates and organises the BT Event Call experience for both the organiser and participants. The automated registration process provides the organiser with valuable participant information prior to the call, ensuring that they know who they are communicating with. Pre-registration allows participants direct and timely access to the meeting, eliminating the need for operator assistance.
Benefits of pre-registration
Organisers are automatically equipped with the necessary tools required to set up an effective call. After completing the simple booking process, organisers are provided with:
 speaker and participant email invitations pre-populated with registration details. Organisers have the option to include a personal greeting or message
  dedicated web site where participants are guided through the simple registration process.
Organisers receive the participants' pre-registration information before the meeting, giving the organiser chairperson a preview of the audience.
Pre-registration helps organisers make sure that required participants are in attendance and the target audience is being reached. This gives the organisers a chance to send a meeting reminder to those who've not yet pre-registered
 Organisers can request up to 10 additional pieces of information from participants in addition to the required first and last name. Popular requests include organisation, employee ID, cost centre, email address, telephone number and location. This speeds up follow-up conversations with participants.
Organisers can predict demand for telephone lines before the meeting takes place
The meeting reservation can be properly sized by the number of registered participants. This feature helps prevent paying for unutilised telephone lines.
Participants enjoy a simple registration process
Participants register for meeting via a dedicated web site and automatically receive a confirmation that includes dial-in and passcodes·
Microsoft® Outlook, appointments can be automatically added to participants' calendars. The appointment is populated with dial-in and joining instructions saving the hassle of manually capturing the details.
Joining a Managed Event Premium meeting
Pre-registration automates the entry of participants into meetings. Participants simply enter their passcode and a unique 5 digit PIN number with no need to wait in a queue to speak with an operator to join the meeting. With automated entry, participants are rapidly placed into the meeting, so it starts on time and saves money.
Get immediate post-meeting attendance report
The organiser can instantly identify who has and hasn't attended the meeting. Printed or exported as a text file make reporting manageable for large meetings and can be used effectively for targeted follow-up communications to both attendees and non-attendees.