Using the web portal to control your call
Accessing the web portal
You can access the web portal by using one of the methods below.
1. Meet Now button in ribbon
You can join faster this way because your login credentials are already validated.
For more information on launching from the add-in, see Joining a meeting from "Meet Now" button.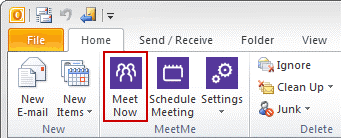 2. From meeting reminder
Clicking Join online meeting or Call me are also fast and easy ways to join.
For more information, see Joining a meeting from a reminder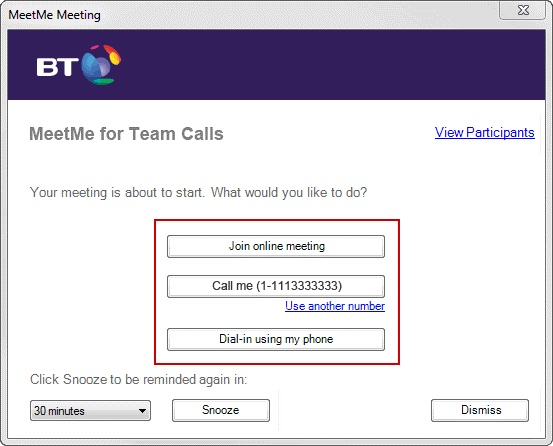 3. Go directly to my.webjoin.com
You can go directly to the web portal. You will have to enter your name, email address and passcode to join the meeting. You can also bookmark it for easier access later.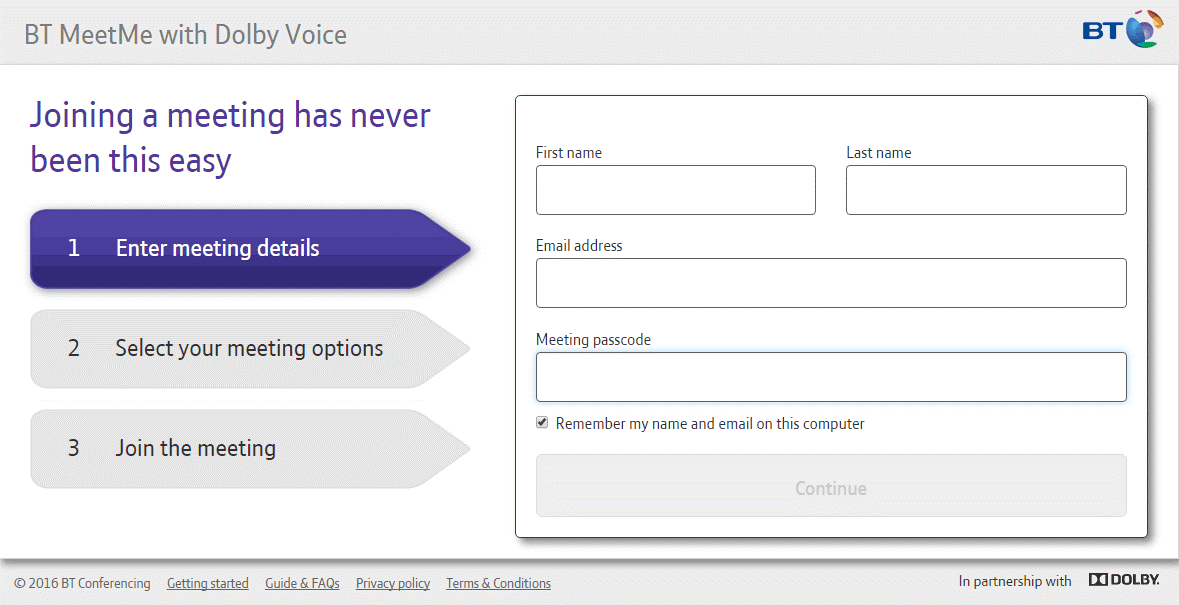 Conference controls
Once in the portal as a chairperson, you'll have several conference-level commands you can use.
Mute
As a chairperson you may mute yourself, mute all, or mute individual users.
Share my screen

If your account is enabled with Webex, you will see the Share my screen button. Clicking it will open a Webex session. Participants in your call can click this button to open Webex and join.
Please note: When Webex is opened, you may be prompted to join an audio call. Since you are already in an audio call, there is no need to join a second time.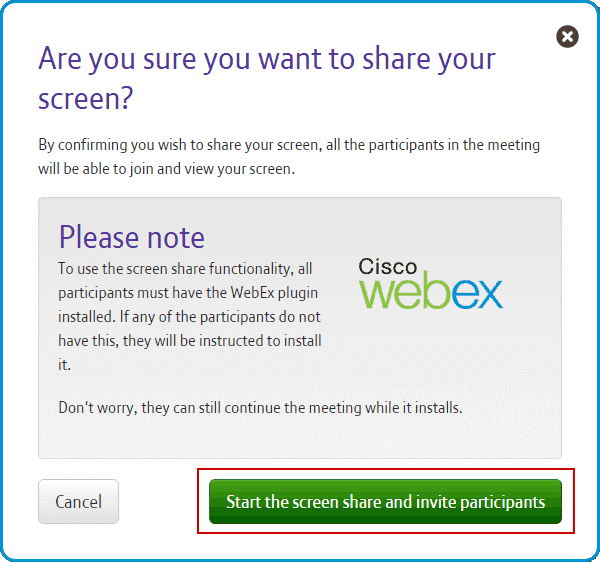 Record audio
Chairpersons can record their audio conferences. When you click on the Record audio button, the button will change to Stop recording and red indicating that the call is being recorded.
Attendees will hear an audio prompt that the call is being recorded.
Chairperson view


Play names
When a chairperson clicks on the Play names button, all participants in the call will hear the recorded name of each attendee. The system plays back the recorded name of each participant when they join.

Lock / unlock meeting
Locking the meeting prevents new people from joining. This is an important and effective security feature.
A participant trying to join a locked meeting will hear an audio message that the meeting is locked and thus they cannot join. A participant joining via the web portal will not be allowed into the meeting and will receive a message that they have left the meeting.
Unlocked meeting

Locked meeting (no one can join)

Edit names
Participants who dial in by phone will show up in the roster as Unknown.
You add the person's name by clicking Unknown or the pencil icon and typing in the box.

Active speaker
Active speaker icon identifies who is speaking in the roster. It's a person icon with animated green lines moving outward.
Getting help
If you are having problems with the call, there 2 ways to get an operator to assist you.
If you are on a standard telephone line, press * 0 on your phone.
If you are in the portal, you may click on the Help link to open a screen with FAQs. Then click the button Request Operator Support.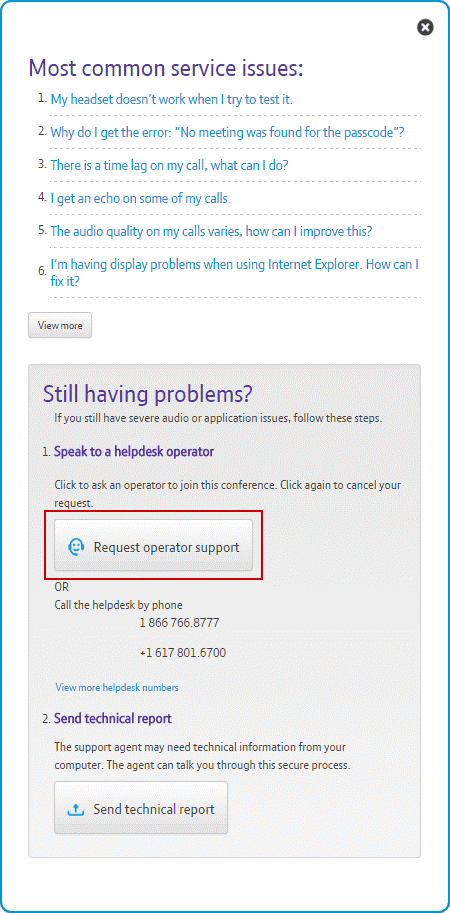 Inviting new participants by email
As a chairperson, if you need to invite or add new participants during your call, you may do that from the web portal.
You can email from the web portal by scrolling down to Invite more participants then clicking Invite by email. This will launch your email program with all the information necessary that you can send in email.
You can also look up dial-in numbers by country scrolling down to Invite more participants then clicking Dial-in Numbers.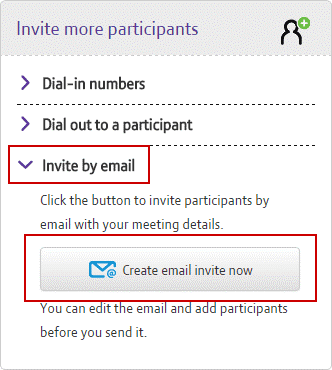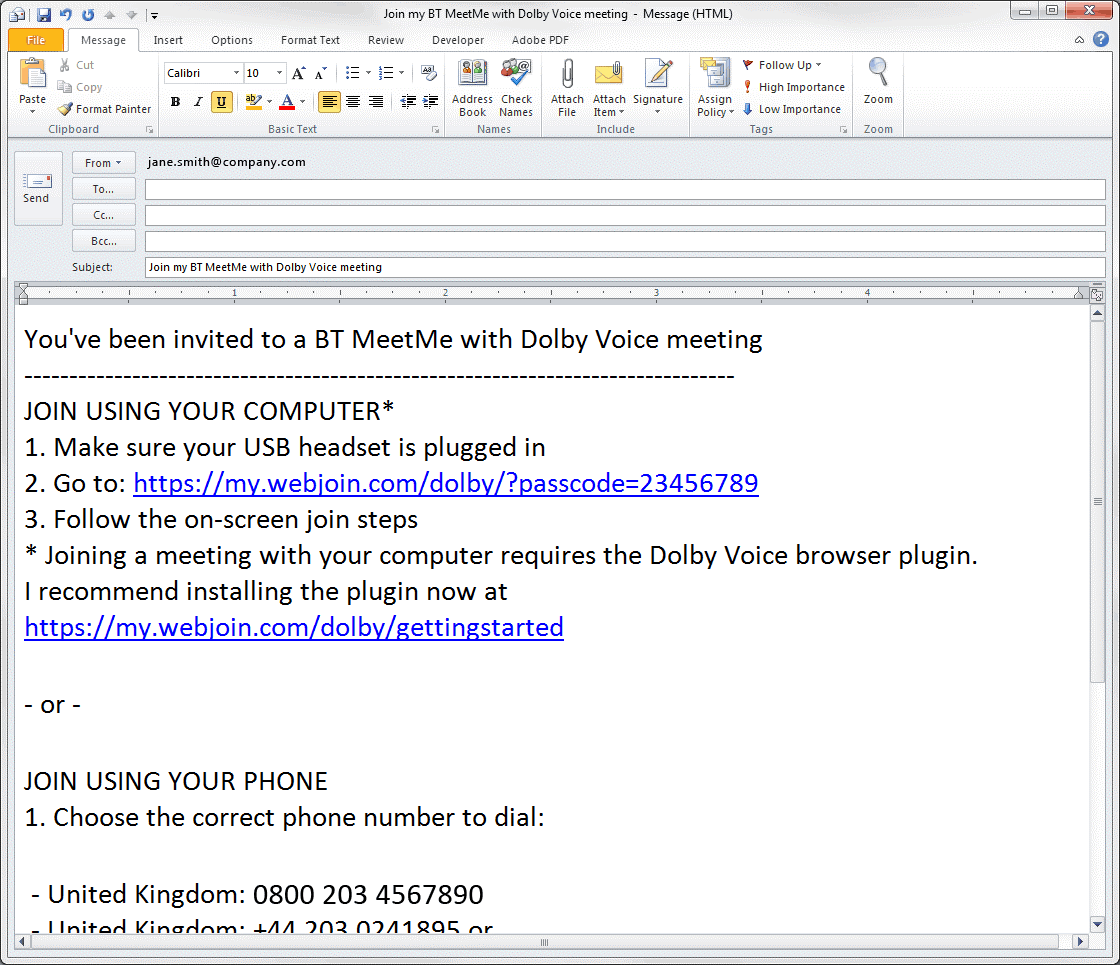 Dialing out to new participants
You can invite participants by having the system dial out directly to them.
Scroll down to Invite more participants, then click on Dial out to a participant
Enter the name and phone number, then click on Call participant now.
You will see a dialogue window giving you the option to cancel or return to the conference.
The participant will receive a phone call. When they answer, the audio prompt will inform them that they have been invited to a conference call and will instruct them to enter *1 to join.
And the participant will show up in the roster with that name and number.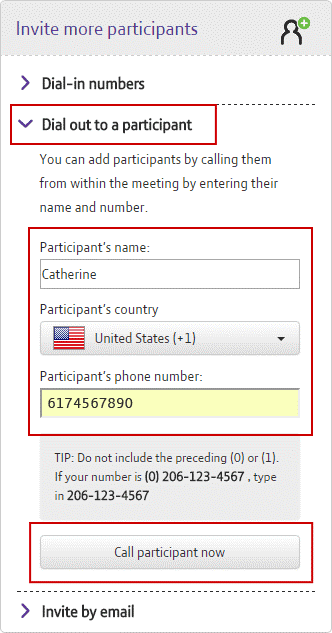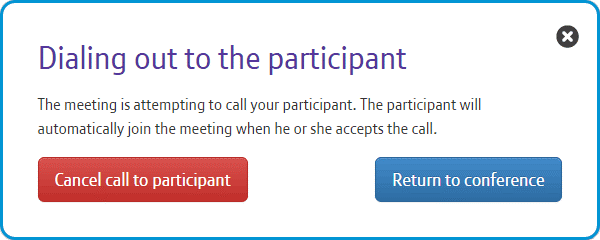 Remove participants
You can remove individual participants from the call by choosing the

button in line with the participant's name.
Then click Remove in the dialogue box.


End meeting
At the end of the call, you can Leave the meeting to end the call. If your BT MeetMe account settings allow, you can choose to leave the meeting as the chairperson but Keep it running for participants that need to continue with the discussion. More often, you will Close the meeting for all.