Joining from the invite
As the chairperson, you can join from the invitation stored in your calendar. But, it will have your participant passcode so you'll have to manually enter your chairperson passcode.
TIP: It's much easier to join from the 'Meet Now' button in the ribbon or from the meeting reminder alert since the applications will immediately connect you without having to re-enter your chairperson passcode.
Note: Most of these options depend on your account settings and you may not have all of them.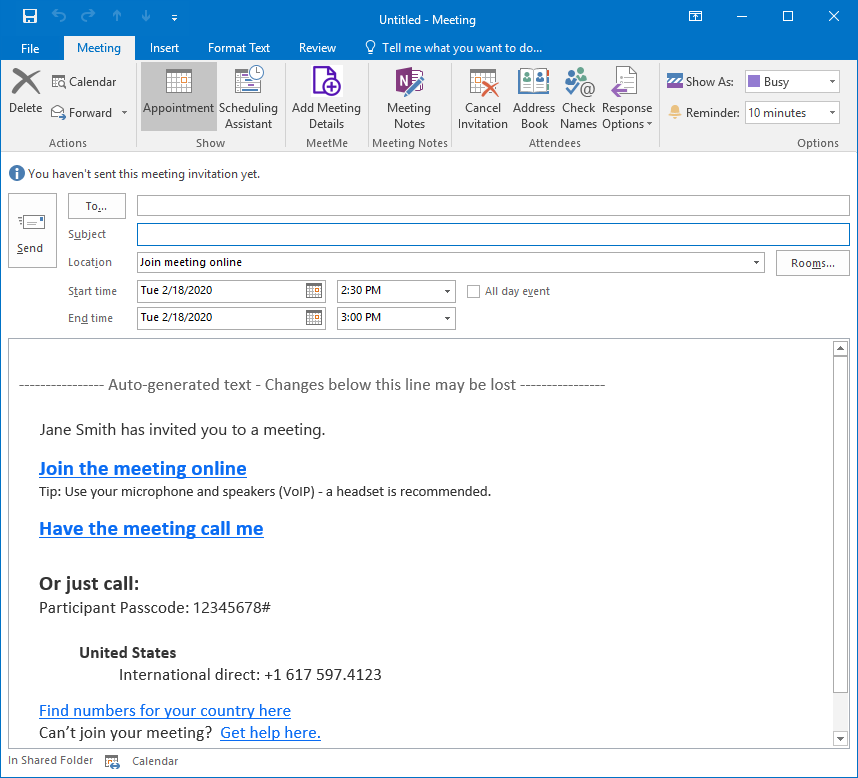 Join the meeting online
If you have Dolby Voice enabled, this is the easiest and most cost-effective way to join.

Clicking the blue URL will bring you to the web portal and automatically insert the meeting passcode.


Have the meeting call me
If dial-back is enabled on your account, clicking or tapping the blue link 'Have the meeting call me' will have the system call you.

If you're the chairperson, it will call you at the default dial-in number in 'Settings'.

If you're a participant, the web portal will ask you for your name, email address and your phone number.


Or just call
You can dial in manually by using one of the listed dial in numbers.

If you need a dial-in number for another country, click or tap, 'View a full list' after 'Need additional local numbers?'