01. Signing in for the first time
Open Skype for Business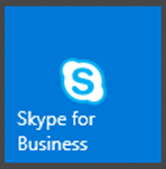 Signing in should not normally be necessary as Skype for Business should start automatically when you start your computer. If you change this option at some point, then you can still find Skype for Business under Productivity on the start panel. If you are challenged on first use, simply enter your credentials and Skype for Business will use those going forward.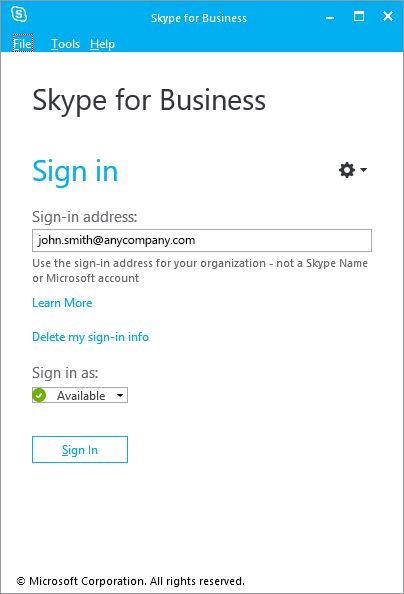 If asked if you want to save your password for sign-in, in the future, choose 'Yes'




At the 'Help Make Skype for Business Better' box, choose whether to allow Microsoft to collect error logs and device configuration information
·You're now set-up and ready to start using Skype for Business
02. Set up video and audio
Click the 'Select Primary Devices' icon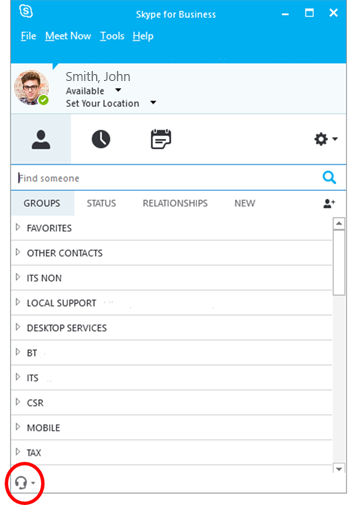 Select 'Audio Device Settings' and choose your preferred audio device from the list available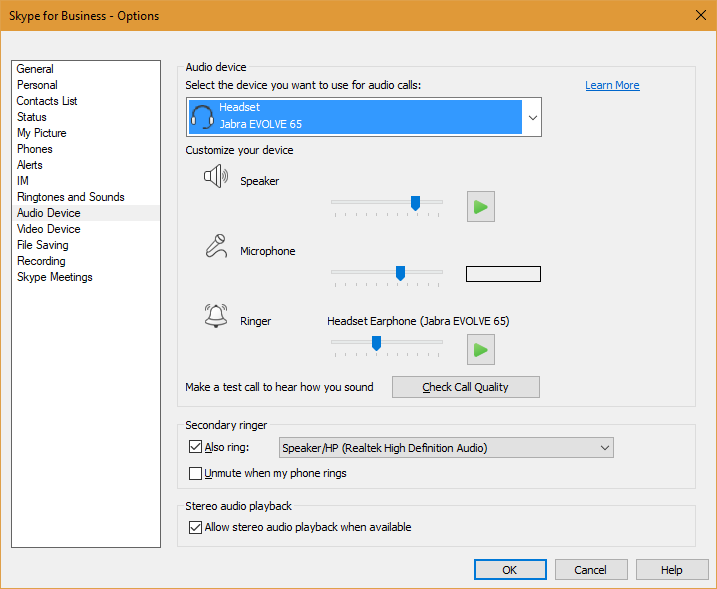 Click the 'Play' button to test the speaker and adjust the volume
Click on 'Video Device' in the left menu, under 'Audio Device'
Select 'Video Device' and choose your preferred camera from the drop-down list at the top of the screen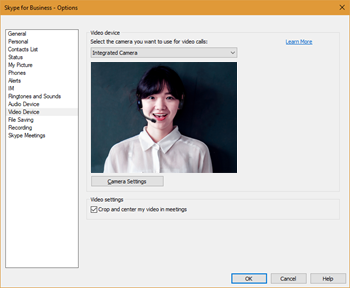 Click 'Camera Settings' if you wish to adjust lighting or colour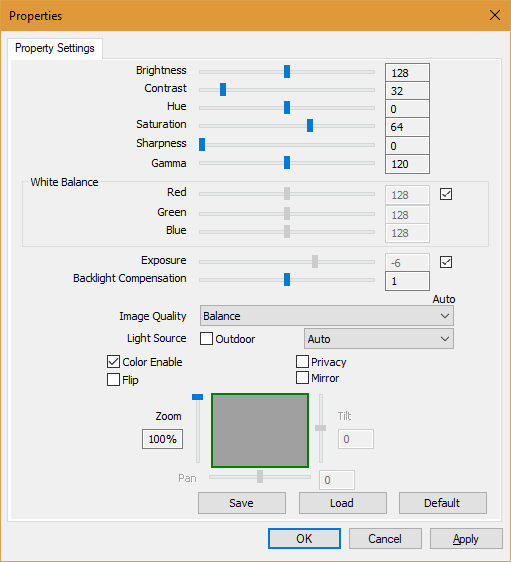 Click OK.

Your audio and video are now set up to start making video and audio calls.

03. Setting up your presence status
Skype for Business lets you see who is available, busy or away. You can also change your presence at any time. Your presence changes automatically, according to your Outlook calendar, however you can change it manually and set a personal note, which will appear in your colleagues' contacts list or on your contact card so people can see it.

If you join a Skype for Business meeting, your presence will appear as 'In a meeting'. If you are on a video or audio call, it will change to the red icon ('Busy') and display to your colleagues as 'In a call'.
You can click the arrows next to your name to change and set your presence then choose a status you want to show to others.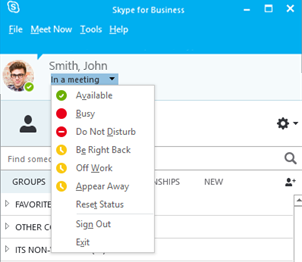 If you want Skype for Business to automatically change your status for you, click the 'Status' menu again, then click 'Reset Status'.

The three most used indicators are 'Available', 'Busy' and 'Away', however there are some other common indictors you can use:

Available    


Busy    


Away    


Do Not Disturb    


Offline    

04. Set up a Skype for Business meeting
Skype for Business allows you to create an online meeting straight from Outlook in a few simple steps:
Open your Outlook calendar
Click the 'Home' tab
Click the 'New Skype Meeting' button. This will populate your invitation with the 'Join Skype Meeting' link which your attendees will click to join the meeting

Add the invitees as you normally would and enter the subject of the meeting
Add an agenda or meeting information
Choose the time and date
Click 'Send'.

05.  Join a Skype for Business meeting: from Outlook
Open your meeting request from Outlook  
Click 'Join Skype Meeting'.          


06.  Join a Skype for Business meeting: from Skype for Business
Open Skype for Business     
Click the 'Meetings' icon


Select the meeting and press 'Enter' or double-click on the meeting.


Or

Right-click the meeting and click on the 'Join' button.