How to successfully consume cloud at scale for multiple projects
Presenters: David Simpkins from BT, together with Alex Hilton from the Cloud Industry Forum.
Using the right technology to connect your sites and users across the globe and give them the right experience, while keeping yourself secure needs a completely different approach.
Cloud is integral to any digital transformation and offers many different benefits. But when legacy IT systems need to be integrated, coupled with managing multiple public cloud services, it can be a real challenge for your network and security teams.
Watch  David Simpkins, general manager, managed services and public cloud from BT and Alex Hilton, Chief Executive from the Cloud Industry Forum to find out more about:
how customers are using the cloud for new and innovative projects
the challenges that a multi-cloud environment presents
how to successfully manage end-to-end multi-cloud projects, using one of our customers as an example.
We've helped customers handle huge, multi-cloud projects, manage seamless migration from their legacy systems, and work more efficiently around the globe. This event is a great opportunity to get tips and examples from our experts on how to rollout and manage multi-cloud projects.
Please enter your details to watch the video
Watch the replay video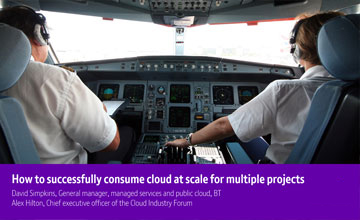 Speakers: 
Alex Hilton, CEO Cloud Industry Forum
David Simpkins, General Manager, Managed Services and Public Cloud