Top 3 security risks for your SD-WAN implementation
Presenters: Kevin Brown, Managing director of Security; Adrian Comley, General manager, Dynamic Network Services; and Peter Sader, Security head of business development
The visibility, control and agility that an SD-WAN can deliver to a global organisation makes it very attractive, but it can come with significantly higher risks.


In around 80 per cent of the bids we see, customers aren't actively considering or aware of these risks. SD-WAN is highlighting the tension between CIOs, focused on supporting the business with technology enabled solutions, and CISOs, concerned with managing information security risks. Are you clear on how to deliver the benefits of SD-WAN, whilst maintaining the security of your organisation?
Watch our webinar where our Managing director of Security, Kevin Brown, and Adrian Comley, General manager, Dynamic Network Services, discussed the top 3 security risks you need to consider to make sure your SD-WAN implementation is secure.
Please enter your details to watch the video
Watch the replay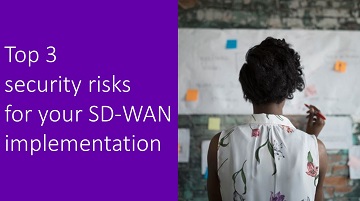 Speakers:
Kevin Brown, Managing director, BT Security

Adrian Comley, General manager, Dynamic Network Services, BT
Peter Sader, Security head of business development