Please complete your details
How regulatory change is driving technology and business transformation in the global capital markets industry.
Regulatory change is widely recognised as the 'new normal' in financial markets. Firms allocate much of their budget to meeting compliance demands, but could it be better used to deliver more of a return on investment and increase competitive advantage?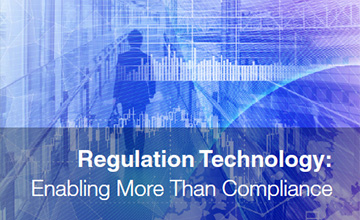 This report, featuring exclusive insights from a range of industry thought leaders, explores the practicalities for firms looking to rethink their technology strategy and turn regulatory challenges into real business opportunities. In this report, you will learn:
●   how much firms are spending on compliance technology and how those costs can be reduced or offset
●   how firms are leveraging transaction data, to extract trends, patterns and correlations for business insight
●   some of the ways that cloud (public, private or hybrid) can facilitate both compliance and wider business benefits
●   where microservice architectures fit into the compliance landscape
●   how RegTech solution vendors can gain a better foothold into large financial institutions.
To read the event report, please fill out your details in the form.