Cloud masterclass: delivering hybrid cloud successfully and at scale
Presenters: David Simpkins, General manager, managed services and public cloud, BT; Simon Walker, Product management, BT; and Ryan Greer, Partnership sales, Cloudreach
A cloud-only approach can present problems that we've discussed in earlier webinars. And it's these problems that are driving most global organisations towards a hybrid cloud strategy.

But how do you deliver successfully on that approach at scale?
As cloud solutions prove their reliability, security and deliver on their cost advantages, the rate of migration will only continue to increase. But not all workloads can migrate to the cloud. Some legacy services are restricted because of technology, regulation or security.  And there's the burden of proof that the cloud has transformed costs.
86% of customers with workloads in public cloud by 2020 will be multi cloud (1)

80% will overshoot cloud budgets due to lack of cost optmisation by 2020 (2)
How do you get visibility across your private and public cloud estate and manage both effectively? Which workloads will migrate and which won't? And once you have workloads in the cloud, how can you optimise costs to deliver against your business plan?
These are the questions we explored with a team of experts on private and public cloud migration services in our webinar. They shared what they had learnt from tackling these challenges with large multinational organisations.
(1) Forecast: Cloud Consulting and Implementation Services, Worldwide, 2017-2022 May 2018, Gartner
(2) How to Identify Solutions for Managing Costs in Public Cloud IaaS" - Gartner, January 2018
Please enter your details to watch the video
Watch the replay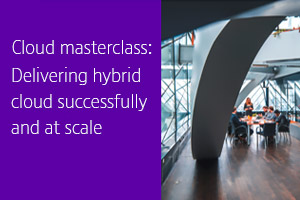 Speakers:
David Simpkins, General manager, managed services and public cloud, BT
Simon Walker, Product management, BT
Ryan Greer, Partnership sales, Cloudreach