Chances are, your vision of the contact centre of the future includes a smoothly running omnichannel set up, with AI taking the lead in transactions. But how close are we to this utopia? Is it what consumers are really looking for?
To be able to answer those questions and plan your contact centre investment, you need the full picture of customer expectations and attitudes. That's where our global Autonomous Customer research comes in, tracking consumer contact behaviour for ten years now, and giving us the confidence to pull out trends that are here to stay.
Join me, as I use the statistics to explore the five essential contact centre questions you need to be aware of to make smart decisions in 2020.
1. Is the phone call dead?
As early as 2001, experts predicted the death of phone calls to contact centres. An often repeated prediction, consultants said online would hoover up all consumer transactions and some academics said bots would replace all humans in contact centres.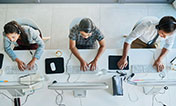 Well, our research reveals that the phone call is alive and kicking. Even in this digital age, speaking to an agent on the phone remains the most important form of customer contact. The number of people picking up the phone has remained high in the UK with 74 per cent choosing to call a contact centre in 2019 (against 79 per cent in 2010).
Speaking to an agent is particularly vital for problem solving. What wasn't anticipated in 2001 was that the growth of e-commerce and digital services would require human support: no matter the channel, when the going gets tough, your customers want to talk to another human being. In fact, the only channel to match the phone in popularity is email, which has slipped slightly from 77 per cent in 2010 to 68 per cent today.
Organisations have tried — with some success — to deflect calls and emails to self-help alternatives over the last 20 years. But, since 2010, more than half of the UK population would pick up the phone to sort a problem rather than check frequently asked questions.